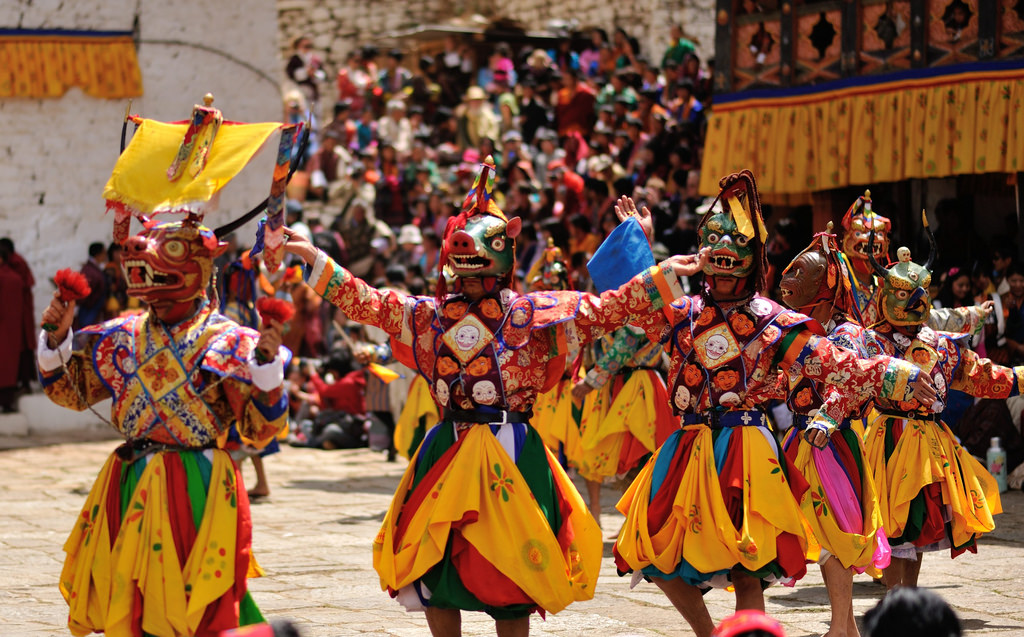 Experience the Ancient Living Culture of Bhutan Tshechu (Festival)
Tshechu is a Buddhist festival in honour of Buddhist Saint Padmasambhava, popularly known as 'Guru Rimpoche', the saint who introduced Buddhism to Bhutan. A Tshechu draws hundreds of Bhutanese people in a spirit of reverence, blessing, festivity and celebration, and is one of the best ways to discover the rich cultural heritage of Bhutan.  The sacred celebration comes to life with colour, music, dance and drama as villagers and townspeople gather to witness the masked and sword dances and other sacred rituals. These events, most of which are performed by monks in colourful and elaborate costumes, bring blessings to the onlookers, while also instructing them about Buddhist Dharma.
There are various Tsechus held all year around at temples, Dzongs and monasteries throughout Bhutan.
FESTIVAL DATES FOR 2020
| Name | Start Date | End Date |
| --- | --- | --- |
| Punakha Drubchen | Mar 2, 2020 | Mar 4, 2020 |
| Punakha Tshechu | Mar 5, 2020 | Mar 7, 2020 |
| Gomphukora | April 1, 2020 | April 3, 2020 |
| Gasa Tshechu | April 1, 2020 | April 3, 2020 |
| Zhemgang Tshechu | April 1, 2020 | April 3, 2020 |
| Paro Tshechu | April 4, 2020 | April 8, 2020 |
| Chhorten Kora | April 8, 2020 | April 22, 2020 |
| Domkhar Tshechu | May 3, 2020 | May 5, 2020 |
| Ura Yakchoe | May 4, 2020 | May 8, 2020 |
| Nimalung Tshechu | Jun 30, 2020 | Jul 1, 2020 |
| Kurjey Tshechu | Jun 30, 2020 | |
| Tour of the Dragon | Sept 5, 2020 | |
| Tour of the Dragon (Bicycle Race) | Sept 07, 2020 | |
| Thimphu Drubchen | Sept 22, 2020 | |
| Wangdue Tshechu | Sept 24, 2020 | Sept 26, 2020 |
| Tamshing Phala Chhoepa | Sept 26, 2020 | Sept 28, 2020 |
| Thimphu Tshechu | Sept 26, 2020 | Sept 28, 2020 |
| Gangtey Tshechu | Sept 28, 2020 | Oct 1, 2020 |
| Thangbi Mani | Sept 29, 2020 | Oct 2, 2020 |
| Jakar Tshechu | Oct 23, 2020 | Oct 17, 2020 |
| Chhukha Tshechu | Oct 24, 2020 | Oct 26, 2020 |
| Dechenphu Tshechu | Oct 26, 2020 | |
| Pemagatshel Tshechu | Nov 21, 2020 | Nov 24, 2020 |
| Black Necked Crane Festival | Nov 11, 2020 | |
| Jambay Lhakhang Drup | Oct 31, 2020 | Nov 3, 2020 |
| Prakhar Duchhoed | Nov 1, 2020 | Nov 3, 2020 |
| Mongar Tshechu | Nov 21, 2020 | Nov 24, 2020 |
| Trashigang Tshechu | Nov 22, 2020 | Nov 25, 2020 |
| Jambay Lhakhang Singye Cham | Nov 30, 2020 | |
| Nalakhar Tshechu | Dec 12, 2020 | |
| Druk Wangyel Tshechu | Dec 13, 2020 | |